This fall we'll be heading out to New York. I've been thinking of fall treats that I'd like to make for my family when visiting. We have this tradition of sharing our latest favorite easy dessert recipes when we get together. I know a lot of you think fall equals pumpkins but, for us it also means apple picking, outdoor hikes, apple ciders and caramel.
Since I can't pack all my delicious recipes. I try to make then pin them for everyone. This season is going to be full of fun. I've decided to try a few new apple recipes to add to the ones I've previously shared. Of course, I'm sharing the recipes or how to-s with you too.
Sometimes I day dream of easy dessert recipes I can try. What new ones will I make?? Recipes that come to mind are caramel apple muffins, apple crisps, apple fritters, caramel apples, apple pie (of course) and apple cake with caramel frosting. Just to name a few.
Easy Dessert Recipes
Caramel flavors take center stage for fall recipes for me! What about you? Are you a caramel lover?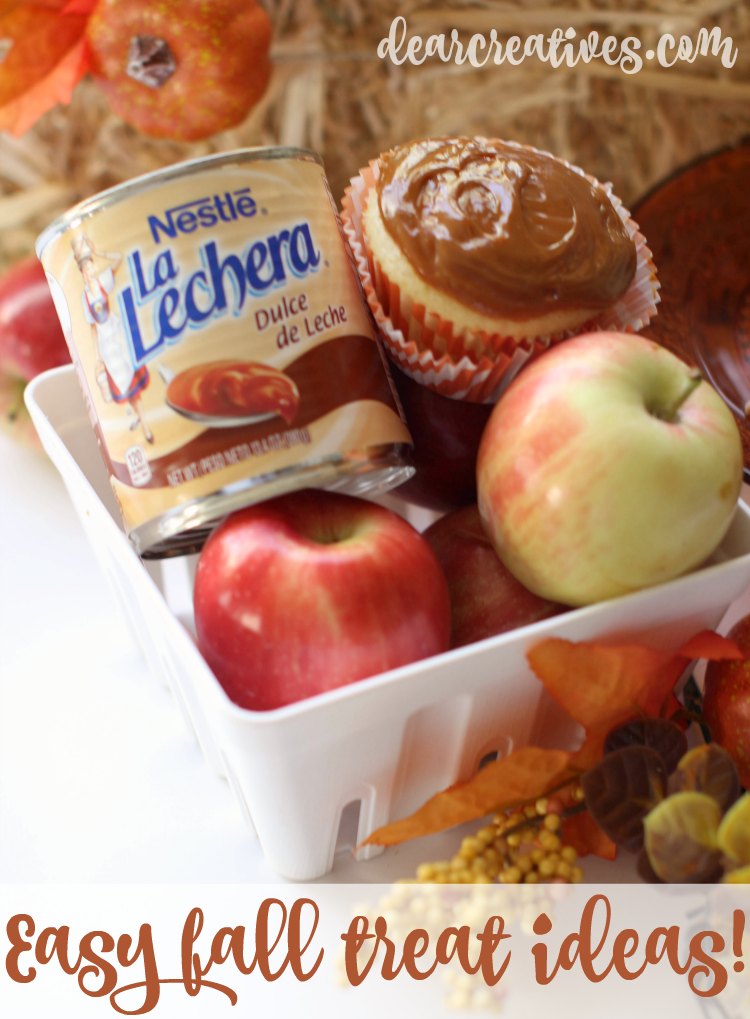 This is when I reach for La Lechera Dulce de Leche to top all my recipe creations and mix them into a recipe. It's easy to find online and at your local stores in the bakery isle.
Today's easy dessert recipes and fall treat ideas are really easy. We don't always have time to do super complicated. Like when I have to have treats for the tennis team's end of season party or a school event.
Caramel Apple Pecan Filled Vanilla Cupcakes and Sliced Caramel Apple Pecan Slices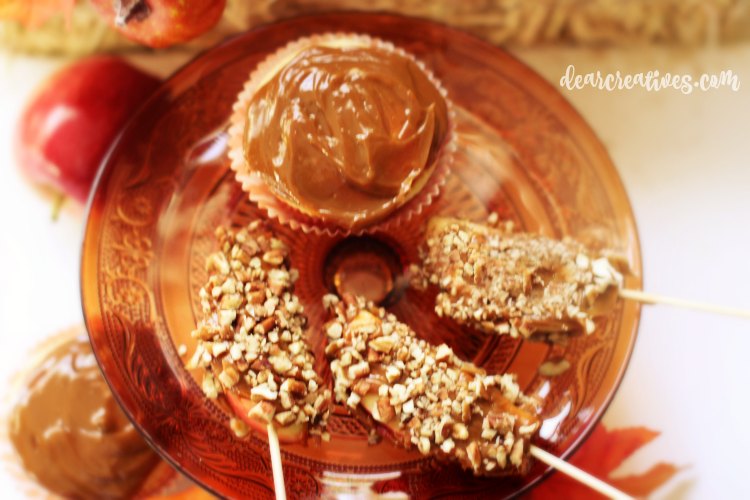 Something that is easy to prepare and serve is always great in my book. Let me show you how easy this is!
Grab a bag of fresh apples from the store. We love Honey Crisp if making caramel apple slices and Washington for smaller whole caramel apples. Wash and slice them add a bamboo skewer into the bottom and spoon on your Dulce de Leche. Next roll them into copped pecans. You could also roll them in raisins or dried cranberries….
How to make these easy dessert recipes
Fall Treats
2016-10-04 20:15:19
Easy Fall Treat Ideas: Caramel Apple Filled Cupcakes and sliced caramel apples with chopped pecans
Ingredients
Dulce de Leche (caramel sauce)
chopped pecans
vanilla cake mix (mine was a golden/vanilla box mix) or your favorite vanilla cupcake recipe
apples
Instructions
Bake your cupcakes and let them cool completely.
Use a cupcake corer to scoop out insides.
Chop up apples into tiny bite size pieces and mix with Dulce de Leche in a bowl and your chopped nuts.
Place them into the cupcake centers.
Add your Dulce de Leche into another small bowl and heat for 45 seconds (in a microwave). Frost your cupcakes a few at a time.
Serve
_____________________________
Cut pre washed apples into slices
Add a bamboo skewer into the bottom
Take a spoon and spread your Dulce de Leche onto each side
Roll into nuts
Add to a serving plate and serve
Notes
You can use nuts such as pecans, walnuts, slivered almonds. Alternately you can use raisins and other small candies.
You'll also need bamboo skewers for sliced caramel apples and cupcake liners for the cupcakes.
Dear Creatives http://www.dearcreatives.com/
The great thing about using recipes with Dulce de Leche is you can use these ideas any time of year.
Easy Dessert Recipes
Dulce de Leche is also great drizzled on fruits, yogurts, ice cream, fruit salads, coffee drinks, ciders and anything else you can think of! Did you know there is even a #DulcedeLecheDay ?? Yep, it's October 11th!
Visit here to see more great ideas for using La Lechera Dulce de Leche and La Lechera's other products.
What's your favorite caramel treat? What will you make for Dulce de Leche day?