It's hard to believe Valentine's Day is just around the corner. It just feels like we were dipping our toes into 2015 and here we are. Behind the scenes we've already started tackling computer issues. Hard drives swapped. Photographs being copied and placed onto new hard drives for storing. Files being search for… as we retire our tired, out of memory space computer. I know that I have the duty of showing my appreciation ten fold to the Mr. as this is no task I could of done myself. The Mr. with all his handy computer skills came into the rescue. He happens to have a sweet tooth as I've mentioned before. Do you? If so today is your lucky day as I have rounded up easy sweet dessert recipes, sprinkled with a few candies!
These dessert recipes are all ones that are fitting for Valentine's Day. What I love about them is most aren't time consuming, don't require a lot of skills and can be made ahead of time for this or any special occasion. Whether your making it special for two or for the family your sure to find something to enjoy making or making and giving!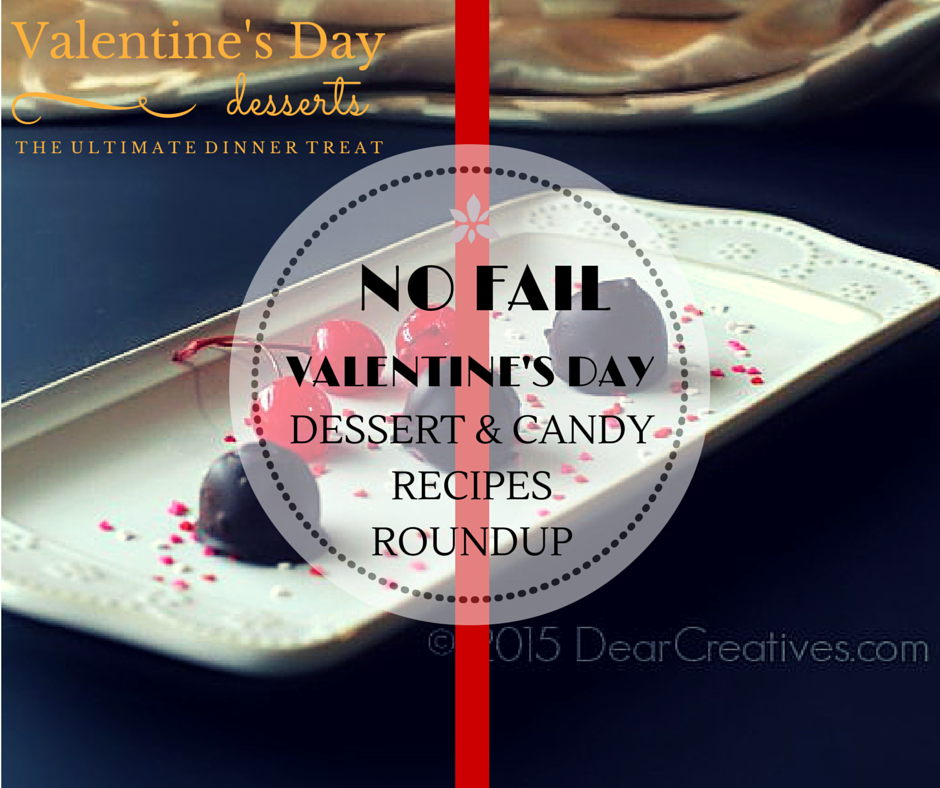 Easy Dessert Recipes ;
Dessert Treat Recipes;
Follow Theresa Huse's board Candy: Candy Making on Pinterest.
If your looking for more dessert, candy and Valentine's Day Inspiration you might want to check out all my Pinterest boards and follow along!
Free e cookbook #OMGyum Become A Better Baker *Winter
Book that I loved using; The 300 best Homemade Candy recipes book
Dessert Boxes;
Here's a little round up of Valentine's Day treat boxes for packaging your cookies, pastries and goodies. Perfect for wrapping up and even sending or giving to someone you love.
I've been crushing on cake stands but, can't pull the trigger on the price tags. If your like me maybe you'd like to make your own cake stand? Check out this diy I can't wait to try! DIY Wood Cake Stand
Don't forget to subscribe so you don't miss our next projects and features. What's coming? Hint: It's yummy! Wouldn't be great if these recipes had no calories? lol
Do you make a special dessert for Valentine's Day?