Today's project is a really quick and easy crafts spring project for St.Patrick's Day. It's a no sew project with minimal supplies needed. I will share the short supply list with how to. Don't worry if you can't draw you can take an image I'm providing to help you make one. You can probably finish this craft diy project in less than 30 minutes to 1 hour.
Some steps to the St. Patrick's day Hoop Art can be by stepped if you don't want to include Twinkles glitter paint (but, I love the sparkle it gives to the project) or painting your hoop. Optionally you could use a permanent ink pen to color your hoop if you needed to. I've created a quite few easy seasonal projects here on the blog before. If your new here you may like this Mixed Media St. Patrick's Day craft / diy project, feel free to check it out when your done here.
The hoop I used is a mini oval hoop but, you can use any size you have or purchase. Just make sure to have enough felt for your project. I had left over wool felt but, you can use craft store felt too.
Crafts Spring: St.Patrick's Day Hoop Art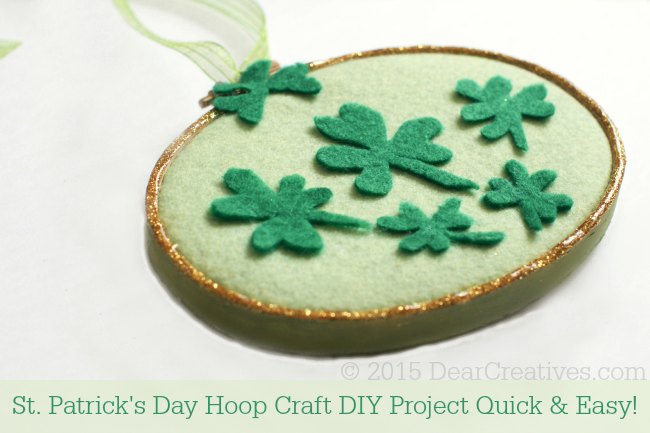 Supplies you need for this crafts spring diy project;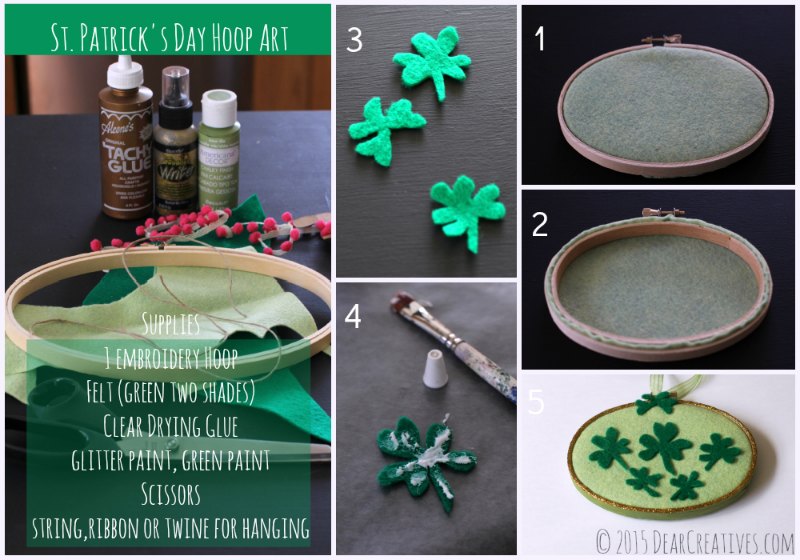 Crafts Spring: St. Patrick's Day Directions;
First you can paint your wood hoop if you want. Next dry with heat gun or air dry. Then enclose felt into hoop. Flip over and cut off excess.
I cut my felt clovers out free hand but, I have included an image you can take to PicMonkey and re-size to the size you need and gently trace it off your computer screen or re color, print & trace. Just don't sell it as a template or use for items for sale. If you draw one free hand just make little heart shapes meeting at the center point then bring the line down for the stem.
Then carefully follow the top edge of the hoop adding your glitter paint and let dry completely.
When fully dry cut ribbon, twine string for hanging.
I hung mine on the mantle. Use a mantle hanger.
Crafts Spring: Free Clover Image template:
I hope you enjoy this quick and easy crafts spring project! I hope to have one for Easter soon. Be sure to subscribe to get all the Crafts Spring Projects and more!
Do you celebrate St.Patrick's Day? What types of spring crafts do you enjoy?
Related post;